Santa Virgencita
Santa Virgencita de la Concha was a performance framed on the alternative Latin American activity Bailongo Antiexótico. This dance event originates as a reaction to stereotypical depictions of Latin culture; visible in the objectification of women and the homogenization of Latin American music just as Reggaeton. In response, the collective Tremendo Parche Latino proposed a night of performance and music exploration through the musical diversity of the region and its cultural richness. This event took place during October of 2019 at the Kultur Bunker, Bremen, Germany.
The program consisted in:
1.Set didáctico
A musical journey through the roots of Latin America.
2. Mesoamérica melancólica + 3 intervenciones poéticas
Experimental set with melancholic music from mesoamerica. + a performance about exile, feminism and colonialism.
+ Virgencita de la Concha [Virgin of the Shell]
It is an effort to express the discomfort suffered by the body of the migrant Latina woman because of the Euro-centrism conception of the "exotic".
Through a performative action, reconciliation is sought with objects that have hegemonized the construction of being a woman.
3.Baile sabrosón
Delicious dance music from Latin America.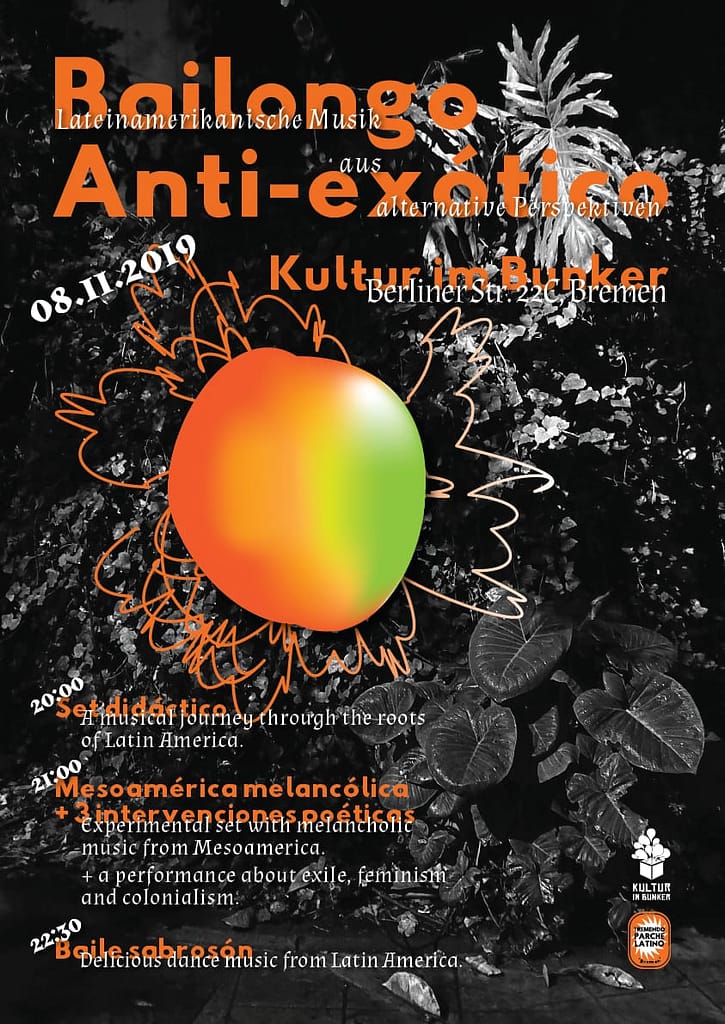 This event was hosted by Tremendo Parche Latino:
– Víctor Artigas
– Pablo Somonte Ruano
– Icaro López de Mesa
– Vivián Hernández
– Moira Meine
– Marcela Antipán Olate
Special thanks to Margarida Guiomar and Kultur Im Bunker.